THE STORY SO FAR
My neighbour Evelyn wants to write fiction and despite my misgivings I've agreed to help her.
We're meeting in my house once very week or ten days, in the evenings.
I'm keeping a record of these encounters, and publishing them, with Evelyn's consent, as a series of blogs.
I've no idea where this will lead, but I've asked some writer friends for their help.
GLOWING
Evelyn has the warm glow of someone whose rhythms are in step with nature. She says she never knew how many different types of mushrooms were out there, many of them delicious, some as dangerous as arsenic. She tells me that Dig It & Dung It, the foraging and garden touring group she has joined, is in full swing for the late autumn, spinning around Ireland in their old minibus, drinking gin and tonic. She meets nice, enthusiastic people on the minibus, she tells me. A few days before when she fell into a deep ditch in County Offaly a member of the group risked his life to pull her out.
'I was covered in from head to toe in slime and mud!' she says and laughs happily.
'So I wasn't wrong about Dig It & Dung It being kinky,' I say.
'If that was kinky then I like kinky,' Evelyn says.
She doesn't seem over-preoccupied with her ambition to become the next Margaret Atwood. She listens carefully to what I have to say and encourages me to keep going when I confess that most of what I write is done by instinct. When I tell her that my new novel Freedom Is A Land I Cannot See will be published next year by Sandstone and is told entirely from the point of view of a young woman, Evelyn doesn't bat an eyelid.
'I see myself being invited to literary festivals up and down the country,' she tells me. 'Dalkey and Dromineer, Mountains to the Sea. The widow who stepped out of the hen-house and wrote a masterpiece!'
She's a dark horse, our Evelyn. I know nothing about her life before she and Bill (RIP) came to live here. She could have been C.I.A. for all I know.
FEELINGS OF GUILT
But since our last session I have been assailed by a feeling that I dismissed Evelyn's questions about plot too easily. I told her to forget plot and used her question as an opportunity to recycle an old joke about the writer who struggled all his life to come up with a decent plot. When he died he had the following engraved on his tombstone:
AT LAST, A PLOT
Of course, if she is ex-C.I.A., then her obsession with plot suddenly becomes clear.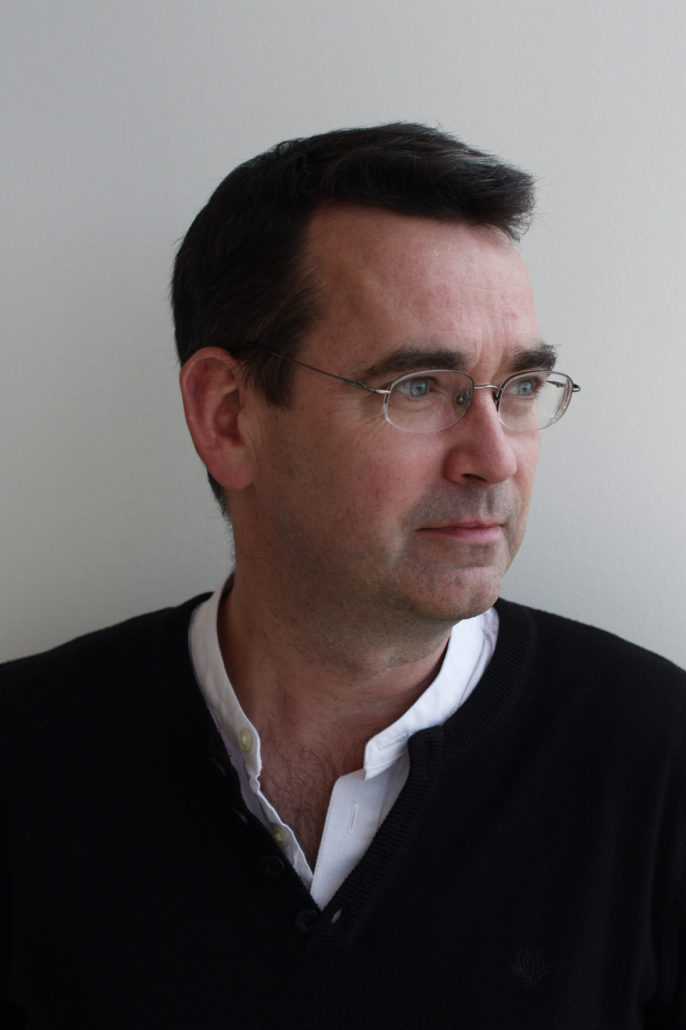 MICK HERRON
Just because I don't work out plots in advance, just because they gradually emerge for me with the help of my editor, Moira Forsyth, doesn't mean Evelyn should flounder around like I do. Which is why I'm feeling guilty. Which is why I asked my friend Mick Herron, one of the greatest plotters there is, for his views on this matter.
'Mick Herron? You mean the Mick Herron?'
Evelyn is beaming like a lighthouse. I suspected this might be her reaction. A couple of years back when she asked me for suggestions for her book club I mentioned Mick's novel Spook Street, and ever since then Evelyn has been a big fan. She's not alone. Mick has many thousands of fans, myself and the missus included. His 'funny, stylish, satirical novels' (The Guardian) are set in London where a group of misfits and eccentrics, former spies and spooks who have made epic blunders, have now been banished to an office gulag from where they continue to save the planet (sort of).
'Mick Herron is shaping up to be the great spy novelist of our age,' said the Daily Telegraph.
'Deliciously tongue-in-cheek and with a striking serpentine construction,' said the Daily Mail of Mick's novel Real Tigers.
'"Serpentine construction" sounds like someone who knows something about plot,' I say.
'So – what? He's written a book about this, or something?' Evelyn asks.
'No, he's written this for you,' I say.
Evelyn sits back and blinks. 'Mick Herron has written this for me?'
'Here's what he says.'
MICK JOINS THE CONVERSATION
'The importance of plot
Dear Evelyn,
Plot is less important than readers might think; less important to the actual creation of a book, that is. A useful analogy might be that of painting a wall. The plot is the colour you've chosen, and obviously there's effort involved in making that decision. But then comes the act of applying the paint to the wall, and from that moment on, it's all about the brushwork. The colour is inherent in every stroke you make, but that doesn't make it crucial to the enterprise: you could be working with any colour at all. What matters is the way it attaches to the surface. It's the movement of your hand, your whole arm. It's not dropping the brush. It's not falling off the ladder.'
Evelyn looks at me sternly. 'Why didn't you tell me all this?' she asks.
'Well – I did, actually.'
'You told me to forget about plot,' she says. 'You made a joke about it.'
'What I was trying to get across,' I say, 'is that you will be much better off as a writer not worrying about plot. And, if you listen to Mick I think he agrees with me.'
HE DIDN'T WANT TO WRITE, HE WANTED TO HAVE WRITTEN
'Another way of talking about plot is to realise that all parts of your plot are equally important. I remember meeting someone who told me he'd long wanted to write a novel, and had in fact got some way with one. He'd written four chapters. But they weren't the first four chapters, they were the chapters in which – his words – "the good bits happen". Chapters 1, 5, 7 and 10, or whatever. And then lost interest in writing the rest. In other words, he didn't want to write, he wanted to have written. Because a real writer has the need to write every part of his or her story; the bits in between the "good bits" are just as important. Of course they are. They're where character happens, they're where the book lives. So what's required is equality of application: every paragraph, every sentence, is just as important as any other, even if it's simply taking a character out of the front door and having her walk down the road to buy a pint of milk. If you can't write those bits, a novel isn't what you should be writing.'
'Wow!' Evelyn says. 'I never thought of it like that before. I'd never thought of the in-between bits.'
'That's why the net of lemons you take with you on your minibus are just as important as the gin and tonic.'
'And the ice,' Evelyn says.
SMALL IDEAS
'And because it's those small moments that are crucial, it's also true to say that big ideas don't especially matter. It's the small ideas writers are hungry for. It's the look on a stranger's face when they've just missed their bus; it's the exasperation mounting in the Post Office when the person at the head of the queue has fifteen parcels to post. Anything, in other words, that will generate a sentence or map a paragraph, because that's where books are written: at the micro-level, not the macro. Your plot might be the reason you're writing a book in the first place. But it's the writing itself that you have to give yourself over to if you're to enjoy – and complete – the process.'
Yours,
Mick Herron'
It's Tuesday, so I pour two glasses of limoncello, an old gift from Evelyn, and we sit down either side of the Aga.
[Click here for Evelyn's recipe for limoncello]
'I think I'm beginning to get it,' Evelyn says. 'Emphasis on think…'
Her face is transformed by the rapture of sudden comprehension. I really hope she can go on and use what she's just read. Novel writing is like long-distance running: a leg pumping, mind addling slog.
'Once a writer realises how to relegate plot to its place, she can relax and begin to write,' I say. 'It's that simple.'
'You think so?'
'I know so. Remember those small ideas, the little details.'
Evelyn raises her glass. 'Then here's to Mick Herron,' she says.
At least someone is getting the credit, I think.
And we clink our glasses.